CWS grads María Carvajal Regidor and Lisa Chason will be presenting their Graduate Research Forum (GRF) talks, on Monday, November 2nd, at 2:00p CST. Each presenter will deliver an individual 30-35-minute talk, after which we'll have 20 or so minutes for Q&A.
As a reminder, CWS GRF talks are prepared and delivered by advanced CWS graduate students; these talks are based upon their dissertation research. GRF talks are also necessary prerequisites for those grads earning writing studies concentrations with their degrees.
See the event fliers, talk abstracts, and bio statements below, and please e-mail blafond2@illinois.edu for Zoom meeting information.
Image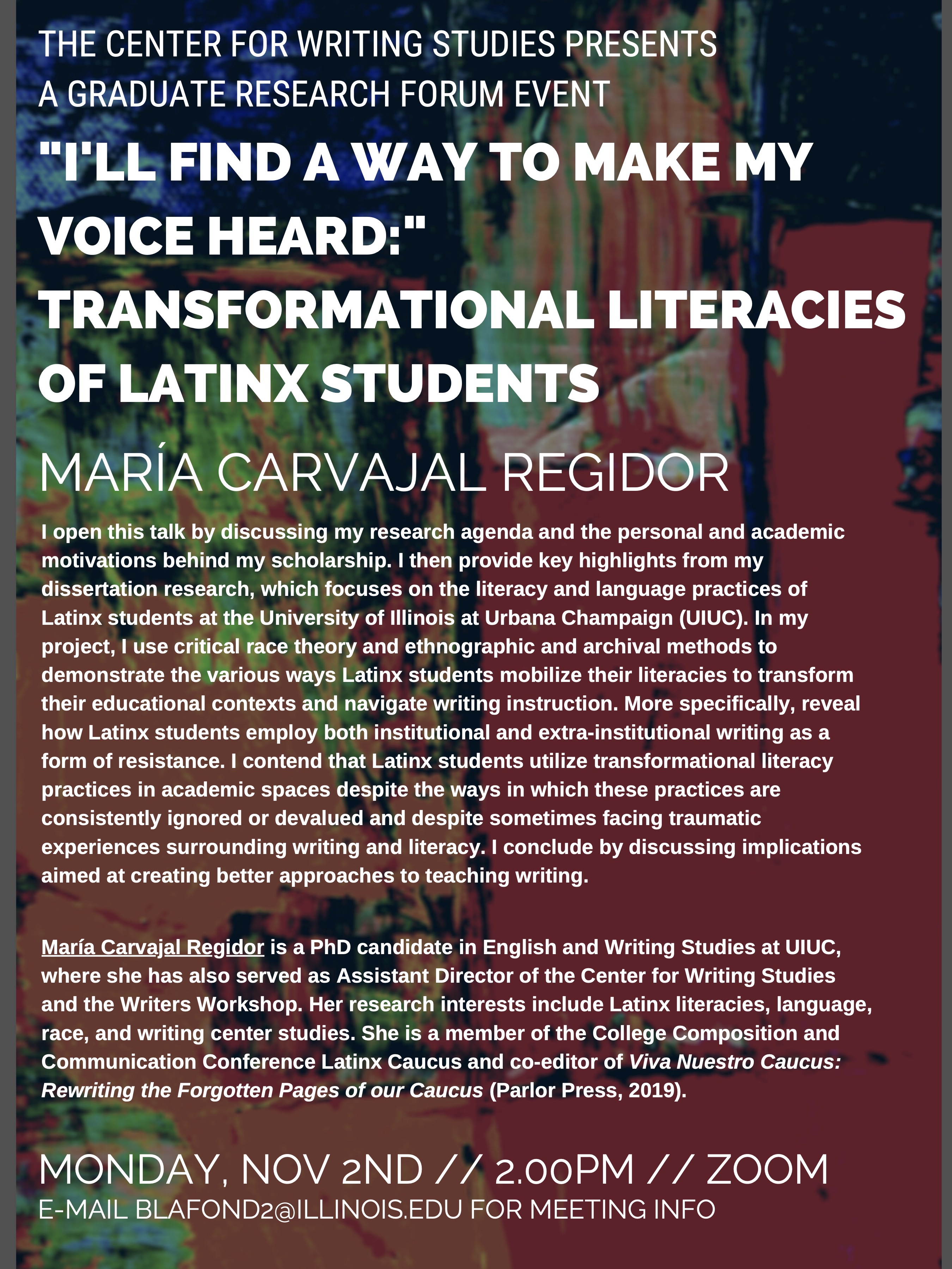 ​"'I'll Find a Way to Make my Voice Heard:' Transformational Literacies of Latinx Students," María Carvajal Regidor
Abstract: I open this talk by discussing my research agenda and the personal and academic motivations behind my scholarship. I then provide key highlights from my dissertation research, which focuses on the literacy and language practices of Latinx students at the University of Illinois at Urbana Champaign (UIUC). In my project, I use critical race theory and ethnographic and archival methods to demonstrate the various ways Latinx students mobilize their literacies to transform their educational contexts and navigate writing instruction. More specifically, I reveal how Latinx students employ both institutional and extra-institutional writing as a form of resistance. I contend that Latinx students utilize transformational literacy practices in academic spaces despite the ways in which these practices are consistently ignored or devalued and despite sometimes facing traumatic experiences surrounding writing and literacy. I conclude by discussing implications aimed at creating better approaches to teaching writing.
Bio: María Carvajal Regidor is a PhD candidate in English and Writing Studies at UIUC, where she has also served as Assistant Director of the Center for Writing Studies and the Writers Workshop. Her research interests include Latinx literacies, language, race, and writing center studies. She is a member of the College Composition and Communication Conference Latinx Caucus and co-editor of Viva Nuestro Caucus: Rewriting the Forgotten Pages of our Caucus (Parlor Press, 2019).  
Image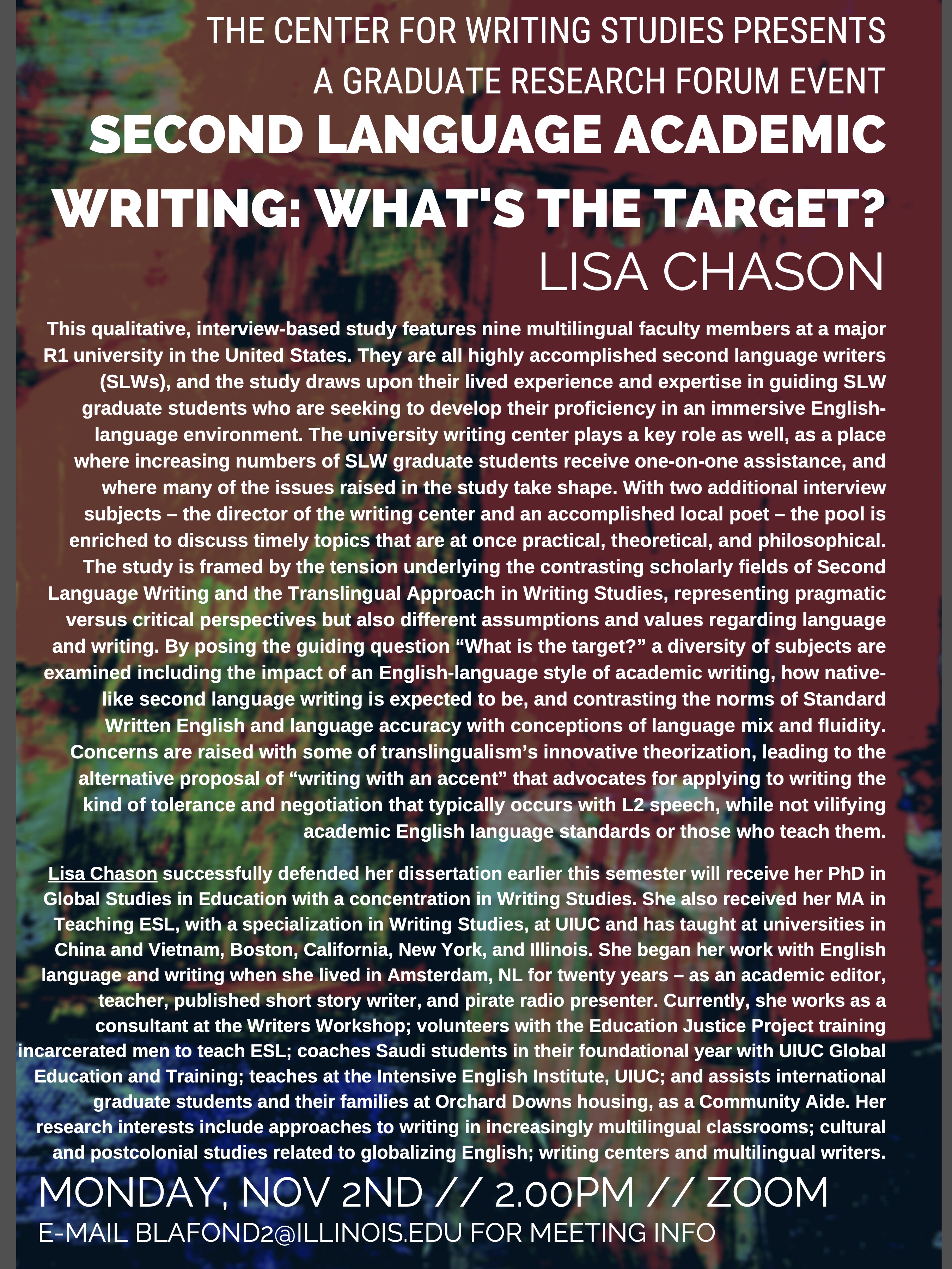 "Second Language Academic Writing: What's the Target?," Lisa Chason
Abstract: This qualitative, interview-based study features nine multilingual faculty members at a major R1 university in the United States. They are all highly accomplished second-language writers (SLWs), and the study draws upon their lived experience and expertise in guiding SLW graduate students who are seeking to develop their proficiency in an immersive English-language environment. The university writing center plays a key role as well, as a place where increasing numbers of SLW graduate students receive one-on-one assistance, and where many of the issues raised in the study take shape. With two additional interview subjects – the director of the writing center and an accomplished local poet – the pool is enriched to discuss timely topics that are at once practical, theoretical, and philosophical. The study is framed by the tension underlying the contrasting scholarly fields of Second Language Writing and the Translingual Approach in Writing Studies, representing pragmatic versus critical perspectives but also different assumptions and values regarding language and writing. By posing the guiding question "What is the target?" a diversity of subjects are examined including the impact of an English-language style of academic writing, how native-like second language writing is expected to be, and contrasting the norms of Standard Written English and language accuracy with conceptions of language mix and fluidity. Concerns are raised with some of translingualism's innovative theorization, leading to the alternative proposal of "writing with an accent" that advocates for applying to writing the kind of tolerance and negotiation that typically occurs with L2 speech, while not vilifying academic English language standards or those who teach them.
Bio: Lisa Chason successfully defended her dissertation earlier this semester, titled "Second Language Academic Writing: What's the Target?" and will receive her PhD in Global Studies in Education with a concentration in Writing Studies. She also received her MA in Teaching ESL, with a specialization in Writing Studies, at UIUC and has taught at universities in China and Vietnam, Boston, California, New York, and Illinois. She began her work with English language and writing when she lived in Amsterdam, NL for twenty years – as an academic editor, teacher, published short-story writer, and pirate radio presenter. Currently, she works as a consultant at the Writers Workshop; volunteers with the Education Justice Project training incarcerated men to teach ESL; coaches Saudi students in their foundational year with UIUC Global Education and Training; teaches at the Intensive English Institute, UIUC; and assists international graduate students and their families at Orchard Downs housing, as a Community Aide. Her research interests include approaches to writing in increasingly multilingual classrooms; cultural and postcolonial studies related to globalizing English; writing centers and multilingual writers.